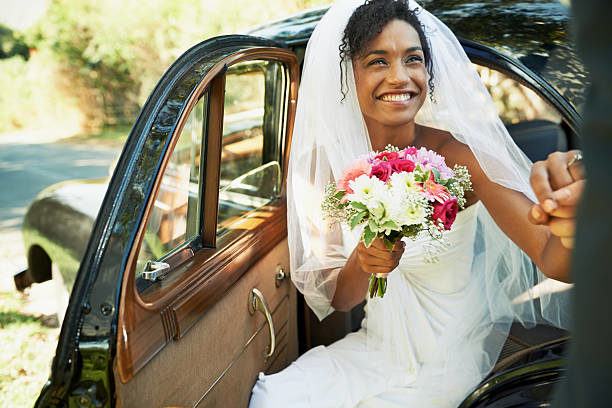 There's going to be a lot happening on the day you get married. Of course, the most important thing is to make sure that you enjoy every minute and don't get too stressed out if things don't go exactly to plan.
We've asked wedding planner and Wedding Ideas Awards judge, Alison Tinlin from Plans & Presents to help break down the timeline for a wedding day, just so you know exactly what you should be doing and when. Don't feel you have to stick to it, though, everybody's day is different but feel free to use it as a guide.
Organise your timings
Firstly, it's important that you give a copy of your timings to key people in the wedding party. You'll need to know when your suppliers are arriving and it's useful to have a list of phone numbers, just in case.
Plan some trial runs
It's always an excellent plan to do trials of hair and make-up before your big day – not only to discover what style really suits you but also to establish how long this will take for all involved. Time how long it takes to get to your ceremony and reception venues and do it on the same day of the week as you're getting married, as a Tuesday will have different traffic to a weekend.
A wedding rehearsal is always a good idea too, so you can see how long this part of the day takes. It's also important, when working out timings, to give yourself some extra minutes in case of any unforeseen emergencies and mishaps.
Outline traditions in your program.
Including cultural customs that are meaningful to you as a couple is a great way to personalize your ceremony, but it will be hard for your guests to feel included if they have no idea what's going on, like if you are having grandparents pronounce blessings or reciting a reading in another language. A note in the program explaining the traditions you've chosen is all you need to help guests follow along. Ask your officiant to give the guests cues when a custom is beginning or when you're transitioning from one tradition to the next. Don't hesitate to use your program to share why these particular traditions are meaningful to you both
Don't: Get too hung up on your program.
Your programs can include anything from song lyrics to your love story. But before you start penning a novel, you should know there's nothing wrong with sticking to the basics, like the names of your wedding party members, the order of events and info on any readings. So don't stress about putting down every thought, or worry about giving acknowledgements to every guest (save all that for toasts or thank-you notes). That way, you have more time to focus on things like picking the perfect processional music instead.
Source: www.weddingideasmag.com